RIP Myron.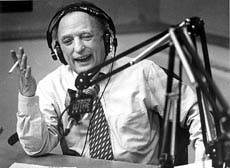 This is one in a series of posts in reaction to the passing of Totemic Deity, Journalist and Football Broadcaster Myron Cope. All of our posts on the topic, ordered chronologically, can be found here: GentleWhoadie, Paul, Burnso, Dos and Skinny.
As someone who has only lived in Pittsburgh for about five years, my experience of
Mr. Cope
began late in his career; however, I spent quite a lot of time listening to his radio broadcasts on Sunday afternoons at my shit jobs in warehouses and bars, and his influence in this city is undeniable.
I once compared Myron's voice to what Pittsburgh would be like if it could talk: shrill yinzer accent, random Jewish expressions, and a penchant for sausages. The man was a human landmark in this town, whether you were a Steeler fan or not, and will be missed terribly. I wish I could write a more eloquent obituary, but I'll leave that up to Skinny, Whoadie and Burnso. I'm sure they've got a lot more to say than a humble Pittsburgh import like me.
In any case, rest in peace, Myron. I hear the hot dogs in heaven are amazing.
Labels: Menial Labor, Myron Cope, Obituaries, Steelers