hold up
First and foremost, I'm not up on the forefront of the indie rock war, so I haven't been skipping work and staying up until 6 in the morning to soak up all the CMJ-related goodness that this city might have to offer. It's a given that I'm gonna go see
Clipse and Trae
tomorrow night, but I'd like to also announce my proud endorsement of tonight's
Product Shop NYC showcase
, featuring The Thermals.
I whole heartedly fucks with
The Thermals
, and their secret blend of existential pop-punk. Their new album,
The Body, The Blood, The Machine
brings the political outrage without the self-righteousness. It's easy to process lyrics like "our power doesn't run on nothing / it runs on blood / and blood is easy to attain / when you have no shame," but these dudes have been much less blatant for the rest of their career, so the rapid shift to
Tom Tomorrow
-style cheap shots isn't particularly annoying. Entirely worth you time and your money.
--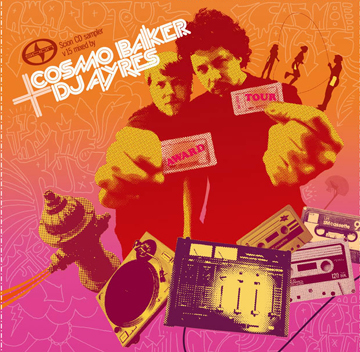 The always admirable dudes
DJ Ayres
and
Cosmo Baker
have blessed the
#1 Patron of Underground Rap
with a promo mix.
Award Tour
has Grandmaster Caz shouting out Scion, Jim Jones shouting out Scion, and P-Thugg from Chromeo shouting out Scion (through a vocoder). Cosmo and Ayres cram a lot of styles into one disc and their short attention span gets a little annoying, but their selection is, as always, top-notch. And I'm wholeheartedly down with anything that includes Spankrock's "Chilly Will". The damn mix is free, so when you pick up the absolutely essential
Bamabounce
12" from
The Ayres store
, you'll get it anyways. Aight?
--
It's pretty rare that I'll get so excited about something that I'd write about it without even hearing it, but
this new B.Cause and Max Kane
tape is a sure shot.
B.Cause
has been leaking these weird one-off super-nuanced blends to the internets for a minute now, and they absolutely kill shit. Too advanced to be dismissed as blends, but too simple (in a good way) to be remixes, has been hitting that sweet spot for DJ production which lazy-ass Laffy-Taffy-over-some-other-beat dudes wish they could find. Him and
Ross Hogg
are also responsible for the absolutely necessary
Slump and Grind
tapes, for us Bay-loving carpetbaggeurs, so anything he does is worth a look in my book.
--
I been putting in work elsewhere, so please check my thoughts on
the Juggaknots' Use Your Confusion
,
J.R. Writer's History in the Making
, and the poorly-named
Underground Hip-Hop Vol. 4
.
--
And some links:
-
Jewish minstrelry revived
.
(thanks Kathryn
)
-Ghost Stories -
Quixoticism
Because I've played out all the Elliot Smith albums I have.
(thanks to a Yeti
)
-
Eminem's Enemies
Because it's easy to lose track. (Don't worry: "Detailed beef info is being gathered.") They're on the case!
-
Another Night on Earth
As I begrudgingly accept that there's some house out there I should be fucking with, this blog is making it easy.