Reasons not to move that deer carcass today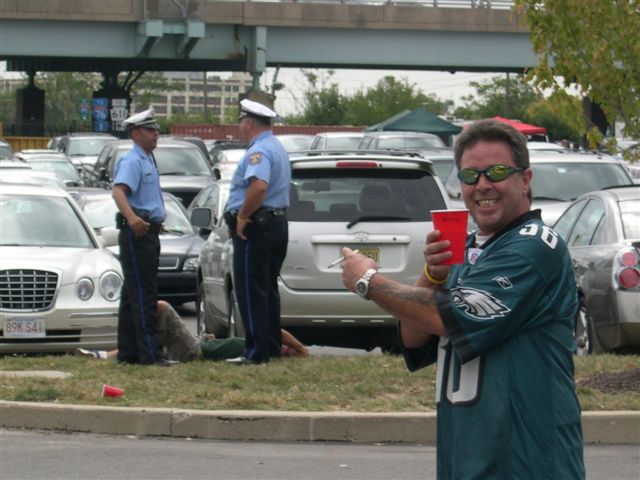 Travelling around the country I viewed other Americans behaving in their normal fashion- kind of like I was on a B-grade safari. There are some seriously insane football fans out there. I may be a "fan," but I don't roll like a tailgater 4 days before a meaningless early season USC-versus-North Delaware-Community-College-type September college football matchup (I could have gone nowhere and still seen your boy pictured above). For fuck's sake people.
What I'm trying to say is...my girlfriend of 4 years just moved to California to start her graduate program and, yes, I did say something to the effect of "Whatever happens baby, if you stop rooting for the Steelers, I don't know what I'll do." Pathetic. However, she did request that I send her some Terrible Towels so she can watch "Troy Troy" ball out while she's sporting the appropriate regalia. In retrospect, considering she's from Jersey and now she is an amateur Joey Porter-ologist (I think I saw her do "the boot" once after bowling a spare), I totally could have convinced her to join a cult. Would been able to cop more crisp Nikes that way.
In celebration of my mother's birthday, the Steelers will face off in a MNF stylee with the Jax Jags, once gently referred to by Myron Cope as the Jacksonville Prison Guards. Steelers-Jaguars matchups are almost always low scoring, ugly and close. I don't expect a particularly good game, but it should provide some field-position-battle suspense. With the general air of mystery surrounding
RoboCop
Big Ben's condition, it seems pretty tough to handicap anything about the game itself. However, if you handicap Big Ben's condition, you can subsequently handicap the game. Shall we?
3:1 odds on Big Ben getting sucked down the top step of an escalator.
Result: Chaz Batch kicks 8 field goals and returns a punt for a touchdown (yielding zero fantasy points) in a 31-17 Steelers victory.
6:1 odds Ben starts but gets bit by a rabid chinchilla in the locker room at half time.
Result: Chaz Batch throws 4 touchdowns and shatters Verron Haynes' sternum with a chest bump. Steelers win 35-23.
97:13 odds Ben gets chlamydia this weekend but plays anyway.
Result: Chaz Batch catches 2 touchdowns in a 17-14 Steelers victory.
2:1 odds Ben is fine and plays.
Result: Chaz Batch homers and doubles in a 21-17 Steelers win.
EDIT: Salutations to those of you moseying in from
deadspin
and the gameday version of
blogngold
. The editorial department mandated several corrections here- my girlfriend has never done "the boot" after bowling a spare. Apparently that was me. Also, I probably could not convince her to join a cult.
In other news:
Whether you love Joanna Newsom, hate Joanna Newsom or swing like a pendulum between the two options, you'll probably find
SexyResults' take
on her new album amusing:
"It's not that bad to do an impression of an overwrought Bjork trying to remake 'Astral Weeks' with nothing but Disney incidental music and Kate Bush's worst unicorn fantasies. But the problem is, about halfway through each track (which is like, the FIVE MINUTE MARK), you have to shake yourself out of this harp-induced haze and ask yourself, 'what the fuck is she talking about?'"